Gut Friendly Salad Ideas
Posted on
Gut Friendly Salads To Support You Through a Gut Reset Programme.
Welcome to this page where you will find a collection of salads perfect to eat when following my 21-day gut reset programme. It is helpful to eat a variety of different coloured vegetables ad fruit. Here I have shared a few of my favourites.
Of course, you don't need to be following the programme to enjoy eating healthy gut-friendly food.
For the purpose of these salad ideas, the ingredients are all taken from a strict list of foods that are recommended for the gut reset programmes I run. They are all grain-free and omit starchy vegetables. You are free to adapt the recipes to your own taste and add or remove ingredients to your taste.
If you have a very sensitive gut that needs healing some of the vegetables can be steamed until al dente and then cooled to make them easier to digest. Where possible use everything in its raw state.
It is possible to adapt the recipes to your own taste and where meat or fish are included these can be replaced with tofu or tempeh as a protein source.
I have purposely been relaxed about the specific amounts of each ingredient used in the salads as I want you to experiment with different ratios that your palate will enjoy.
In terms of dressing and flavourings, You can use any herb or spice to add flavour. No sugar or sugar alternatives are permitted.
Great ingredients for dressings are tahini, live organic natural yoghurt, Lemon juice, olive oil, sour cream or apple cider vinegar.
Enjoy exploring and making these recipes, let me know your favourites.
Bean and Courgette Salad.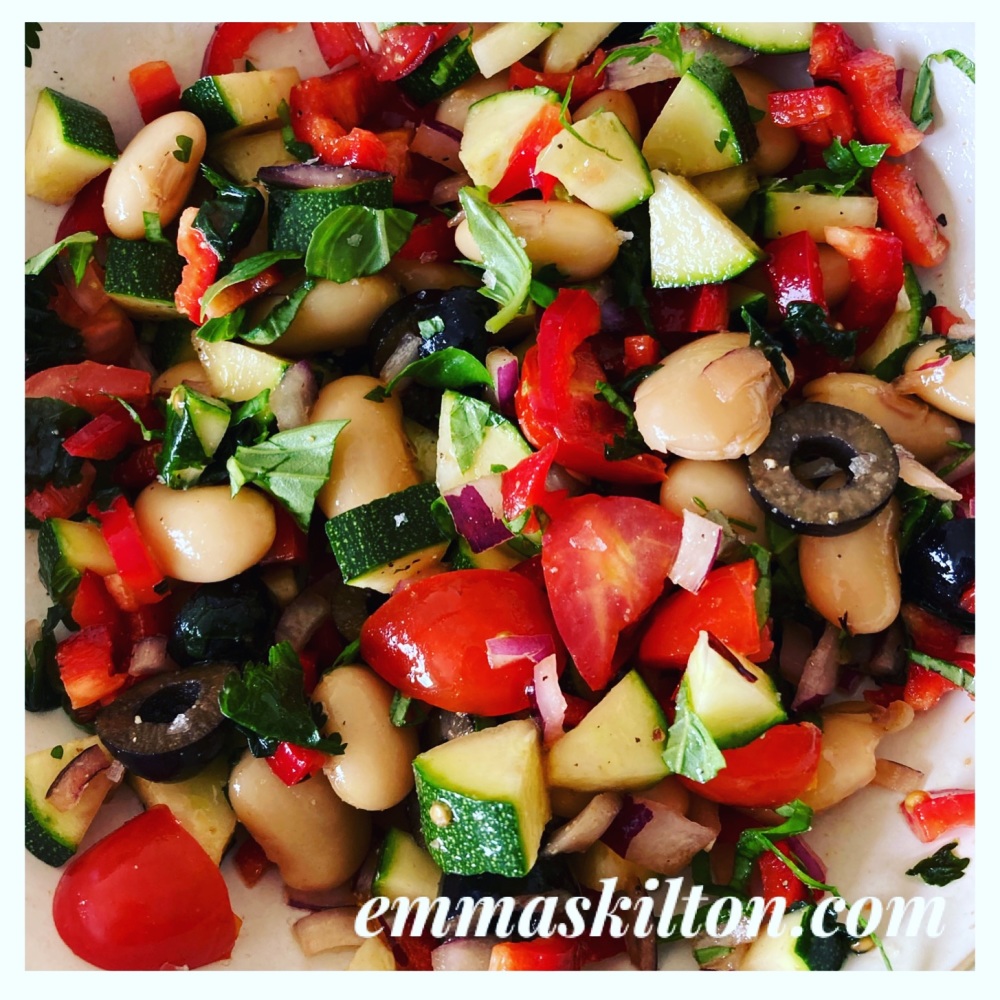 This salad has a lovely texture and best served at room temperature. Ideal eaten alone or with a handful of young leaf salad and a protein of your choice. Adjust the quantities of ingredients to suite your taste.
Ingredients: serves 2
1 courgette raw, chopped into bite size pieces
8 Cherry tomatos quartered
10 Black olives sliced
1/2 red pepper, finely chopped
1/2 carton of drained and rinsed butter beans. ( you can use any bean)
1 small Red onion, finely chopped
a sprig of fresh mintm approx 2 tablespoons
Choice of dressings.
Either simple olive oil and lemon juice to taste seasoned with salt and pepper
Or
Mix live natural yoghurt with a small amount of minced garlic, and a squeeze of lemon juice and drizzle over this salad.
Beetroot and Radish Salad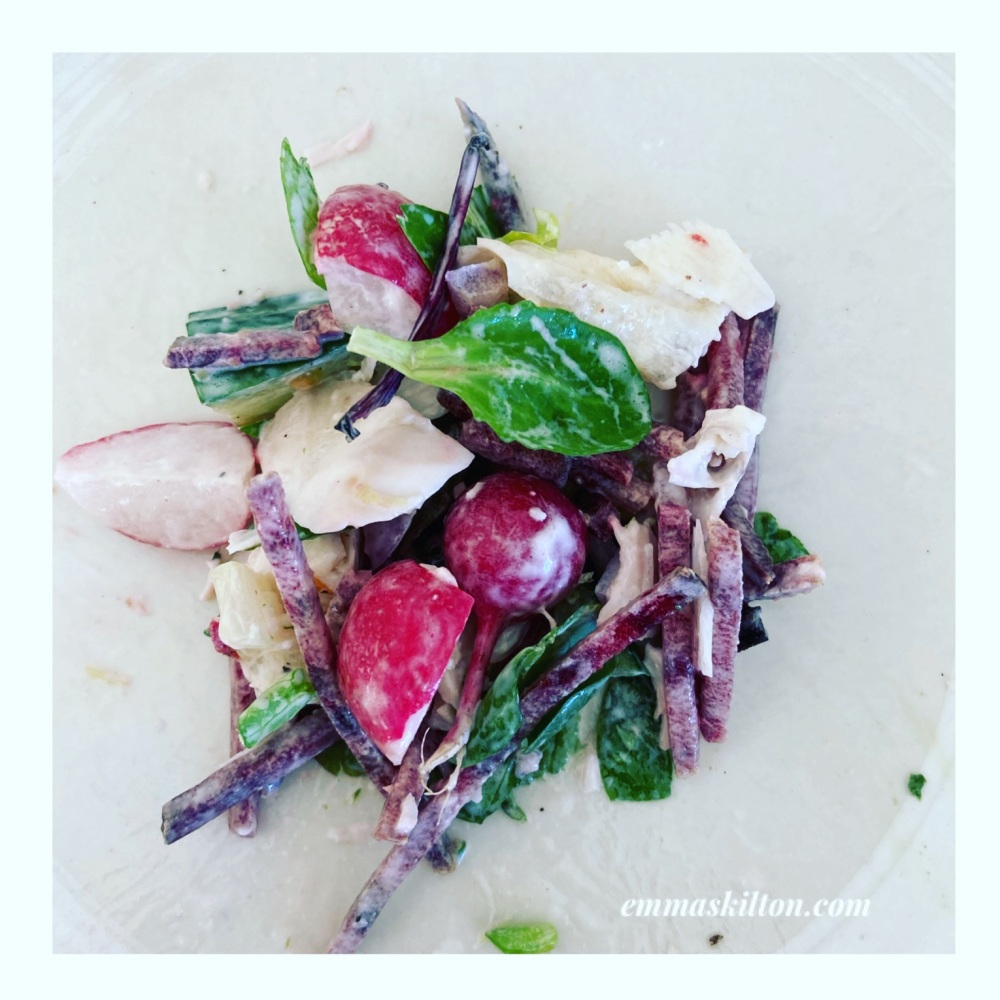 This is a lovely summer salad eaten alone or as a side dish to a protein of your choice.
Ingredients: 1 serving
3 Radishes quartered
2 cm of cucumber diced
1 handful of baby salad leaves, here I have spinach
1/2 cup of raw beetroot battons
Parmesan shavings, you choose how generous (feta could also be used)
Dressing:
Tablespoon of sour cream and a squeeze of lemon juice
Season with salt and pepper
Beetroot Hummus With Cucumber Slices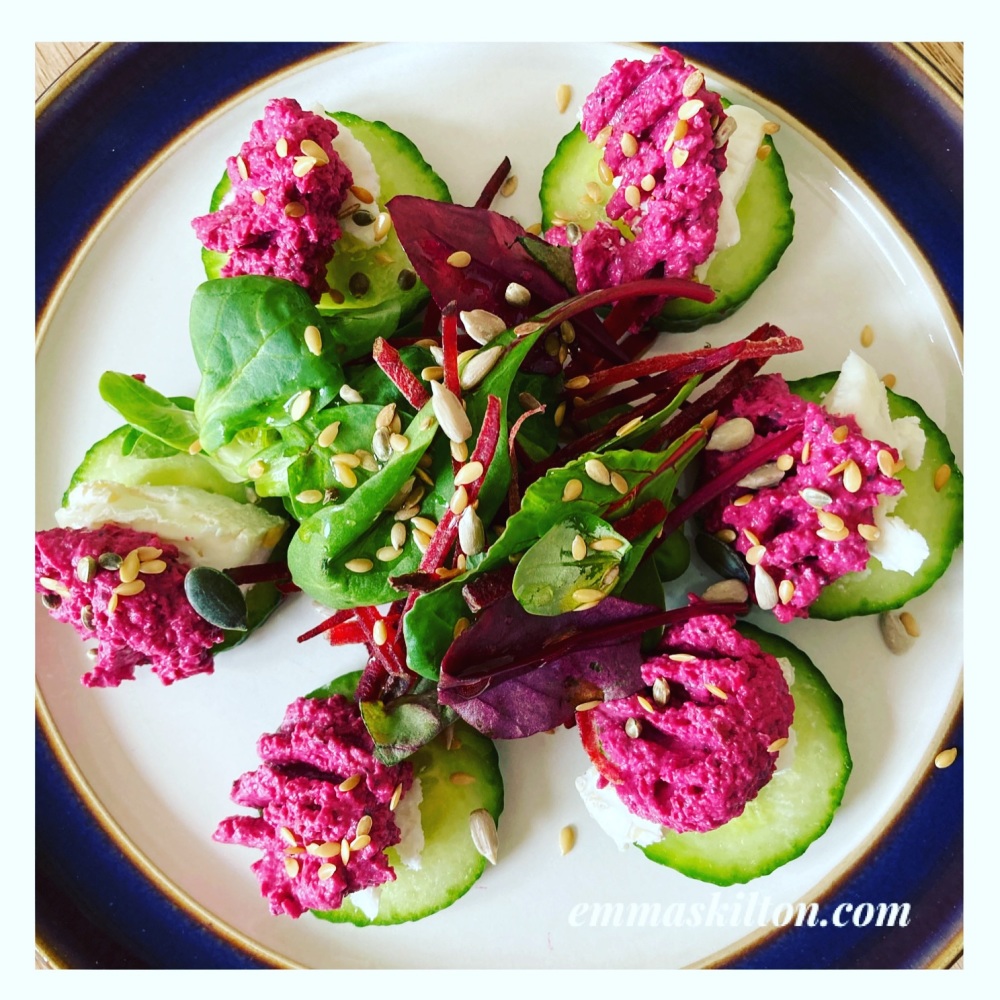 This makes a great salad snack or light lunch. Have fun with different flavours of hummus.
Ingredients: serves 1
6 Cucumber slices approx 4 mm thick
2 tabelspoons of crumbled feta cheese
6 teaspoons of Beetroot hummus
1/2 handful of baby salad leaves
Tablespoon of mixed seeds.
Layer cheese then hummus onto the cucumber disks then sprinkle with mixed seeds.
Seeds here are pumpkin, sunflower, hemp and flax seeds. A great omega mix.
Chicken And Asparagus Salad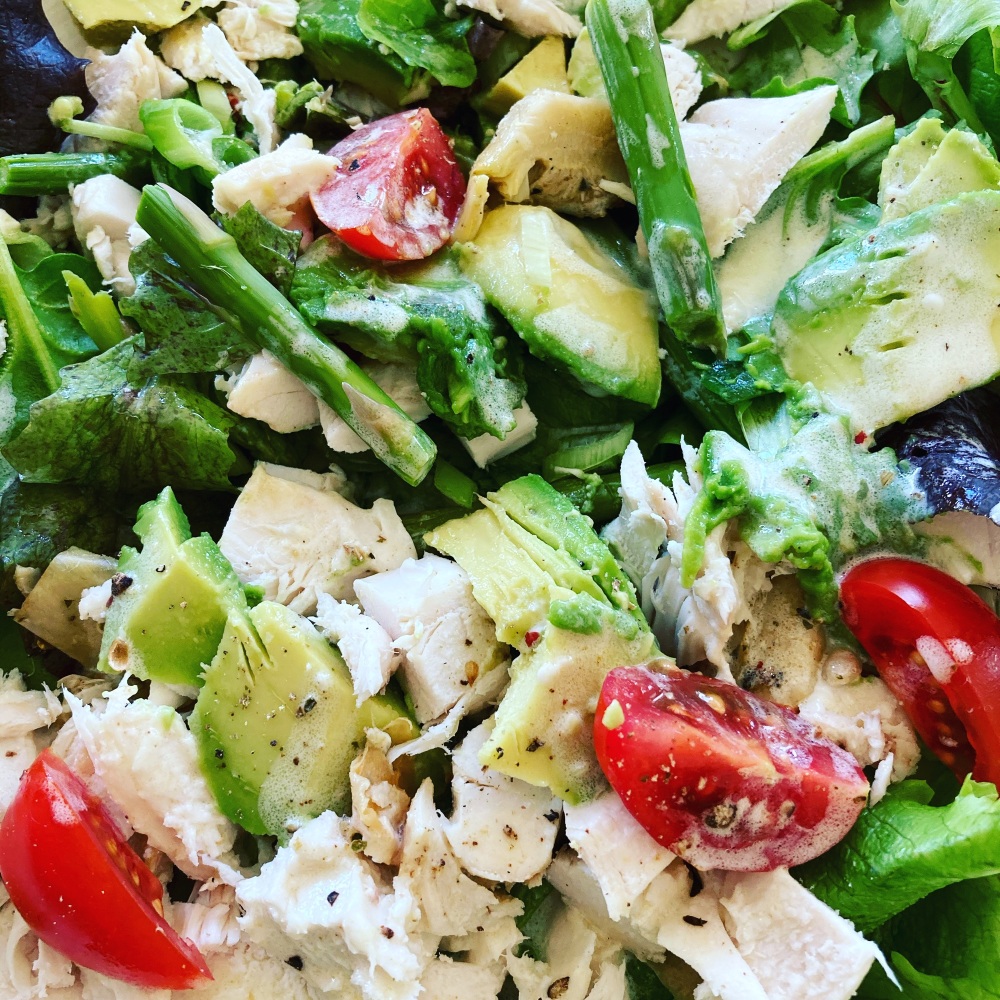 This is a super tasty salad to make during the asparagus season
Ingredients: serves 2
1 cup of Cold roasted chicken. I like to use left overs from a bird cooked the day before. Any chilled chicken can be used though.
2 handfuls of Baby salad leaves
4 spring onions, slice the white parts and the tender green stem
1 medium Avocado
6 stems of asparagus steamed until al dente
6 baby tomatoes quartered
3 grilled artichokes chopped up. These are available in jars or at the deli section
Dressed with olive oil, lemon juice and black pepper
For a bit more luxury drizzle sour cream over the salad.
Chop all the ingredients into bite size pieces and serve.
Edemame And Toasted Seeds Salad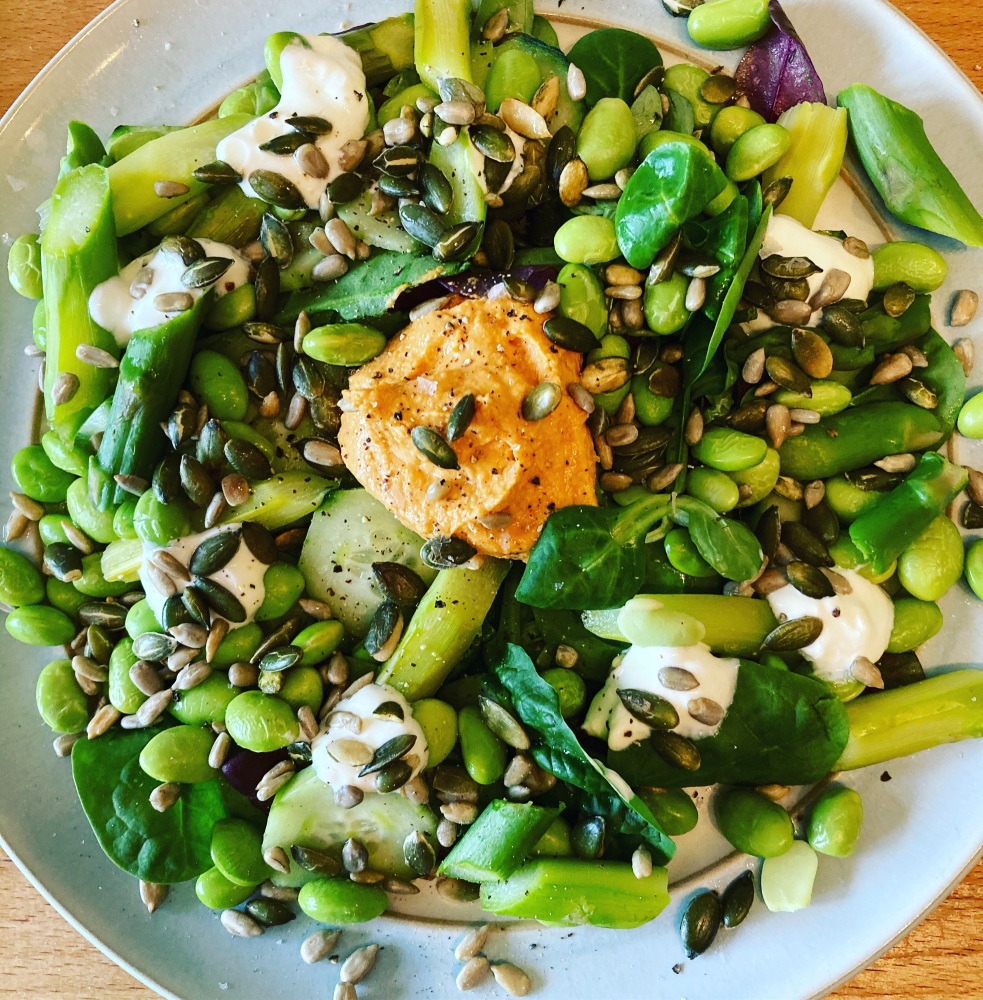 Ingredients: serves 1
Handful of Lambs lettuce
1/4 cup of Edamame beans, steamed and cooled
3 stems of asparagus, steamed until al dente
Approx 2 cm of cucumber chopped
1 tablespoon of toasted Omega Seeds blend
1 serving of red pepper hummus
Sour cream or creme fraiche
Lemon juice to taste.
Arrange the ingredients around the plate starting with a bed of lambs lettuce. Top with the seeds and blobs of sour cream.
Feta And Walnut Salad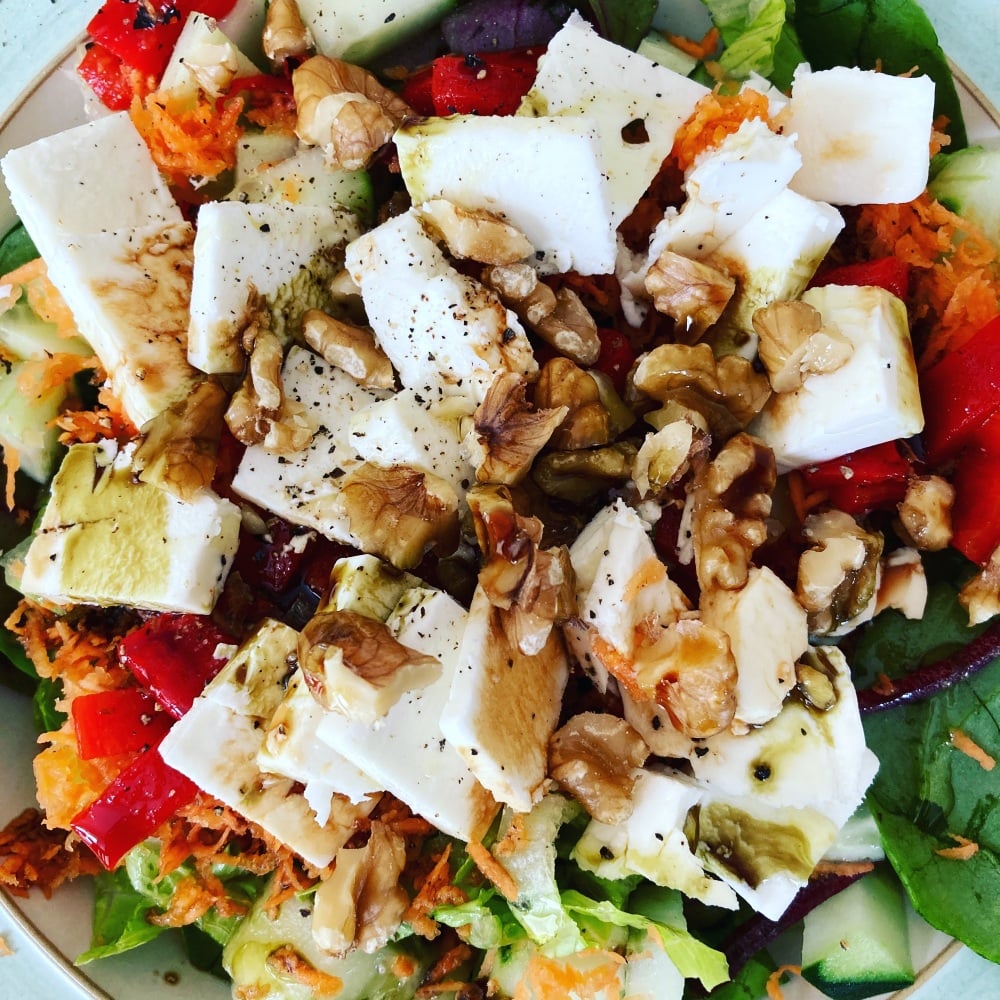 Ingredients: serves 2
1 whole roasted red pepper, skin removed, (these can be from a jar or roast your own)
1/2 block of greek feta cheese thinly sliced
1 small handful of walnuts, chopped
1 medium carrot grated
4 cms of cucumber diced
2 handfuls of Salad leaves
Mix the vegetables together then top with the feta and walnuts.
Dress with olive oil and balsamic vinegar.
Greek Style Salad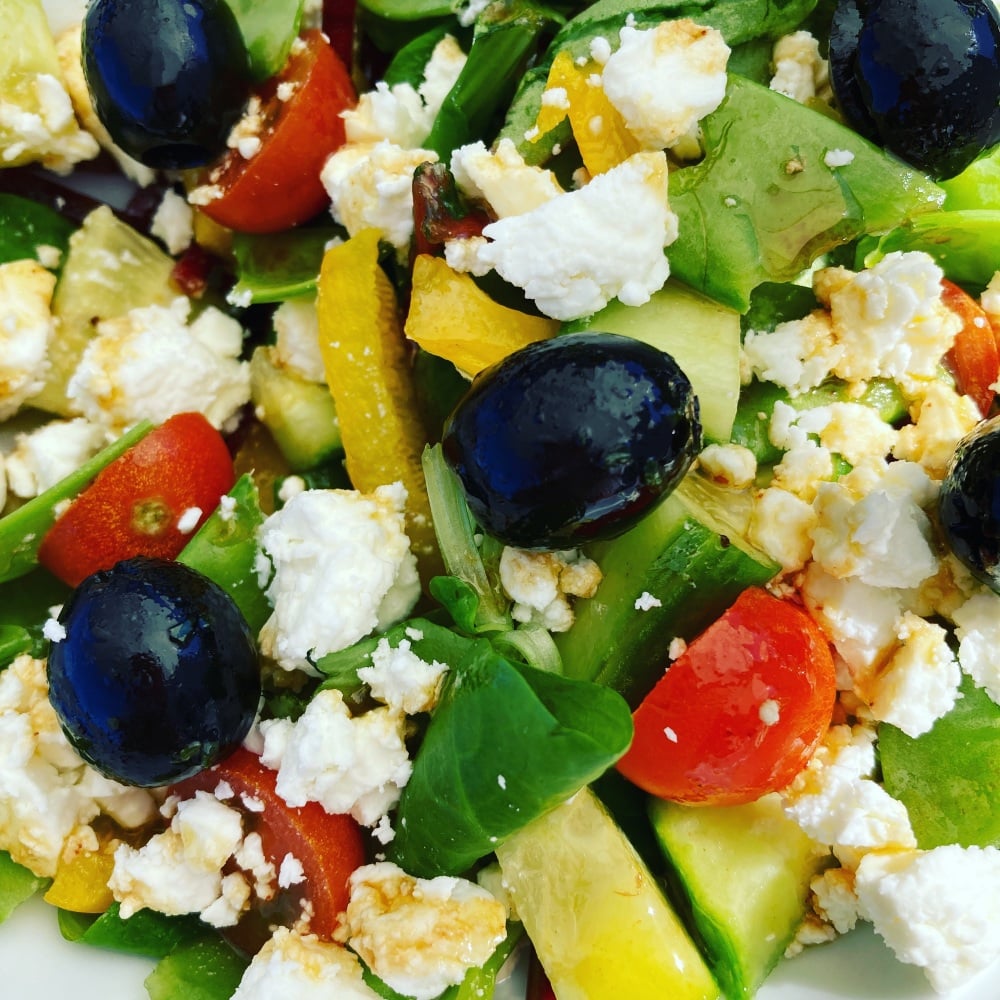 A classic salad goes well on its own or with fish.
Ingredients: serves 1
1 handful Lambs lettuce and baby leaves
1/4 yellow pepper sliced
6 Black olives
2 cm of cucumber cubed
4 baby tomatoes halved
N.B. if you like raw onion you can also add thin slices of red onion or a sweet white onion.
Dress with oil and vinegar. measure 2 thirds oil to 1 third vinegar.
Melon And Grated Vegetables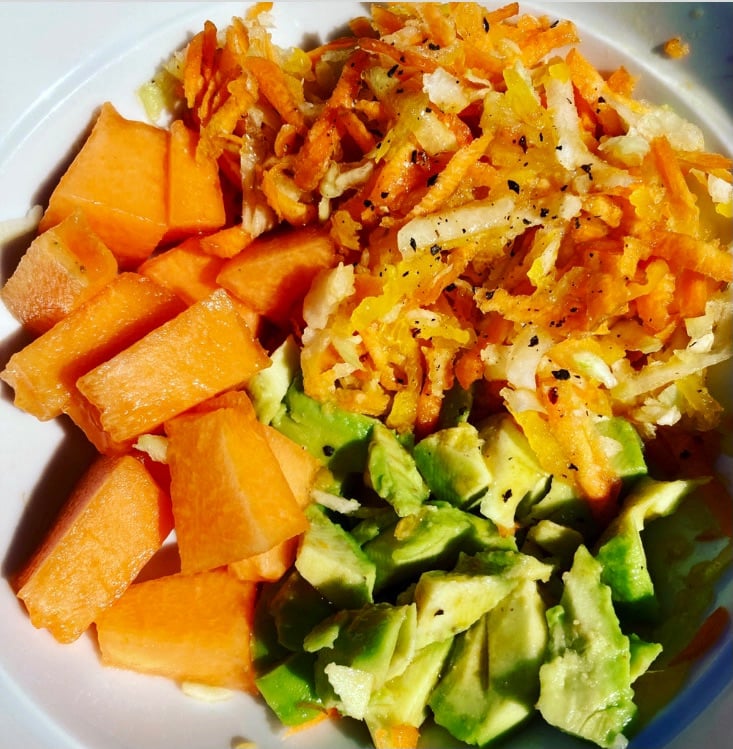 This is an unusual combination and super tasty. Have this when cantaloupe melons are in season.
Ingredients: serves 1
1 slice Cantaloupe melon ( or honey dew) diced
1/2 a carrot grated
1/4 cup of yellow pepper grated
1/4 cup of Kohlrab grated
1/2 a medium avocado chopped
Mix the grated vegetables together. Season with black pepper.
Add an equal amount of the melon, avocado and grated vegetables to the plate
Dress with a seasoning of your choice.
Smoked Salmon and Cucumber Salad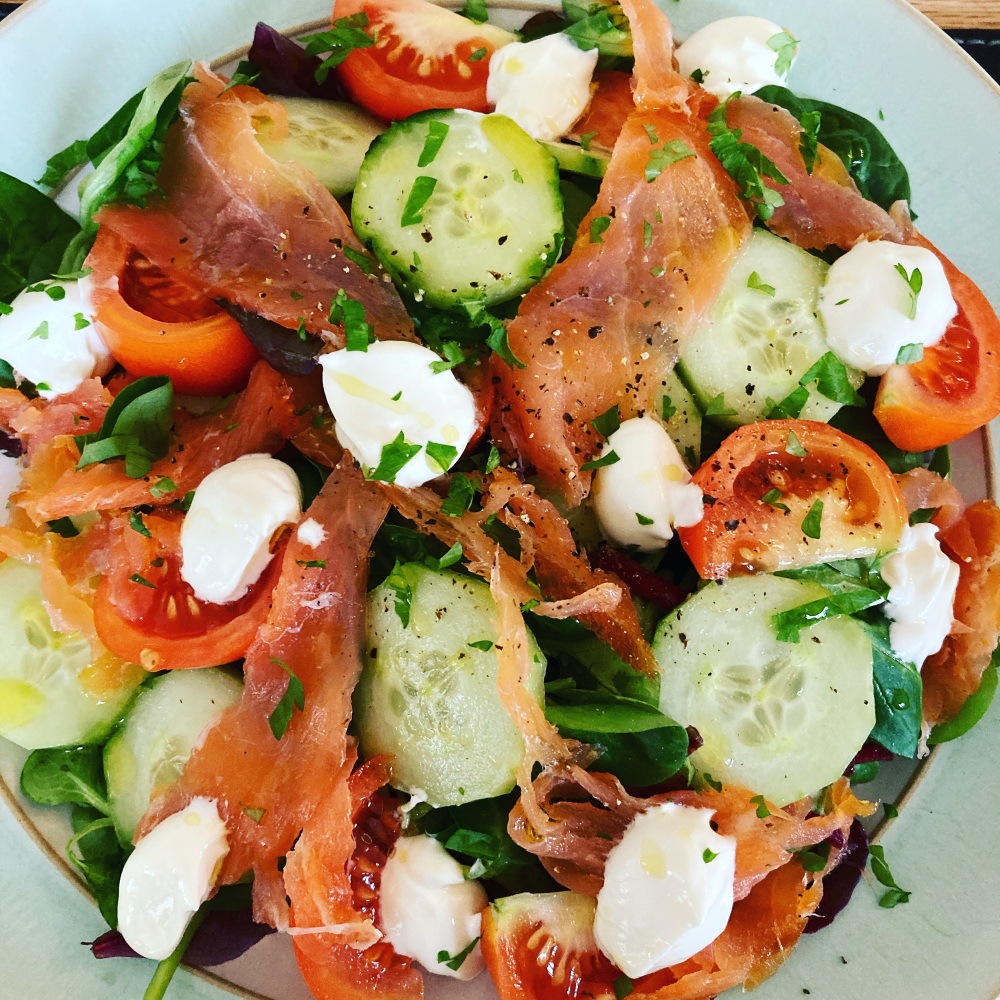 A classic combination for a tasty meal.
Ingredients:serves 1
2 Sugar free smoked salmon slices
1/2 handful of Lambs lettuce
1/2 handful of baby spinach
Cucumber peeled and sliced
Tomato quartered
Fresh parsley chopped
Sour cream
Lemon juice
Olive oil
Arrange the leaves on a plate dressed with olive oil and season with salt. Next place the other ingredients evenly around the space.
Finish with dollops of thick sour cream and sprinkle with fresh parsley. (Experiment with other herbs such as fresh dill or basil)
If you would like to know more about the Gut Reset Programme and how to sign up for the next 21 days, take a look here plus book in for your free lifestyle analysis.