7 Days Of Sugar Free Breakfasts or Snacks
Posted on
Sugar Free For Seven Days
Breakfast And Snack Ideas
Here are the biggest benefits to quitting sugar.
Increased Energy.. ...

Improved Weight Management.

Enhanced Mood, Mental Clarity, Focus, and Health. ..

Reduced Inflammation.
Try cutting out sugar for just 7 days and notice how your body will firstly have a detox reaction if you are a big sugar binger then how you start to experience the benefits.
Below are a selection of sugar free recipes that can be used as Breakfast or snacks to keep you off the white stuff. Please note sugar alternatives even honey are not permitted during the seven days.
Let me know how you get on. This is the first stage to better gut health and less inflammation in your body. If you want to go a step further and see significant health benefits check out the Gut Reset Programme for a full 21 days rebalance.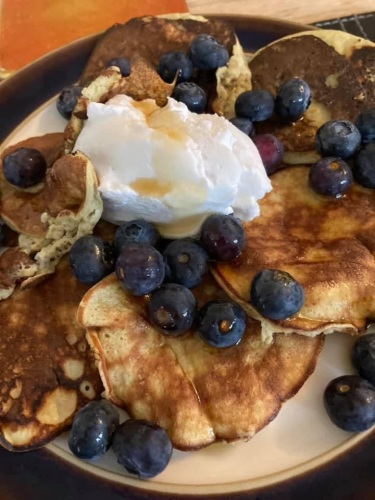 Banana Pancakes
Popular for breakfast or a snack any time
Ingredients:
1 banana
2 eggs
1 tablespoon chia seeds
1 tablespoon ground almonds
Method
blitz the ingredients together
lightly oil a non stick pan and drop the batter into blobs.
Turn when they begin to set.
Enjoy with yoghurt and berries
Breakfast Smoothie 1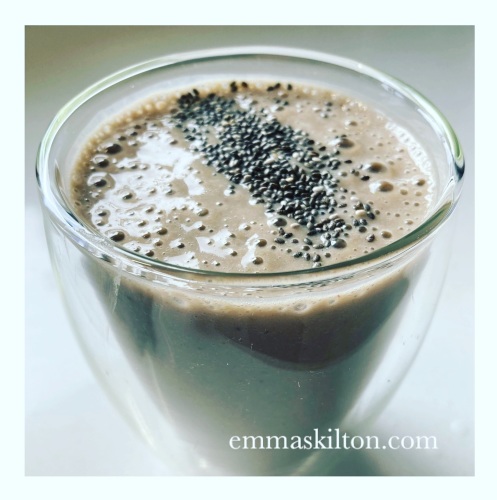 Ingredients :
1 banana
2 scoops vanilla protein powder
80g of frozen berries (I like blueberry and raspberry)
handful of spinach or kale (stalks removed)
200ml water
blend all ingredients together until smooth
Serve topped with chia seeds
Breakfast Smoothie 2 serves 2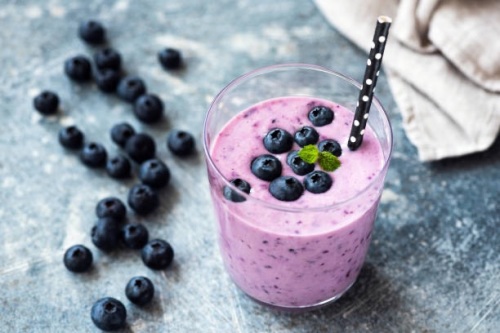 Ingredients:
100ml almond or coconut milk
2 tbsp natural live yoghurt
1 banana
2 handfuls of frozen mixed berries
1 tbsp chia seeds
1/2 tsp cinnamon
Berry And Chia Seed Pudding serves 1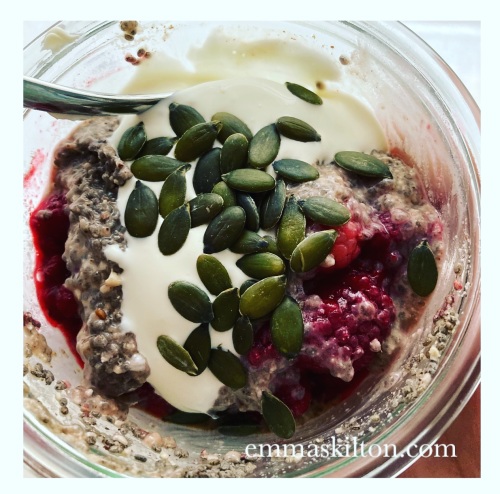 Ingredients :
2 tablespoons chia seeds
1 tbsp ground almonds
100ml almond or coconut milk
Top with nuts and berries of choice before serving
Put the ingredients together and leave refrigerated for a few hours or over night. More milk can be added to loosen the mixture if too thick.
Nuts And Seeds Porridge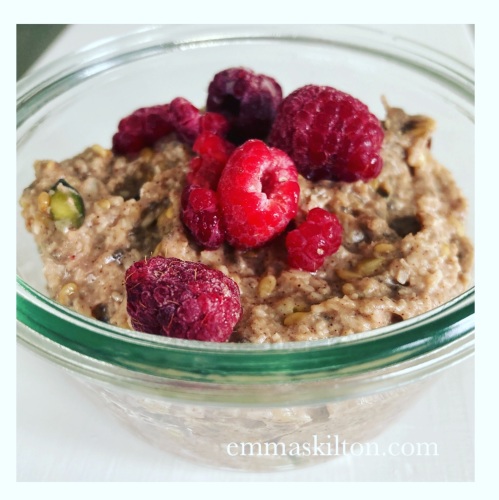 Ingredients:
2 tbsp coconut flakes
1 tbsp ground almonds
1 tsp pumpkin seeds
1 tsp ground cinnamon
1 tbsp chopped walnuts
1 tbsp flax seeds
1 tsp chia seeds
1⁄2 banana
Method
Put all ingredients in a small pot with 100ml of almond milk and 100ml of water, bring to boil Immediately lower temperature and simmer for 10 mins
Serve with a scattering of berries
Lemon Protein Balls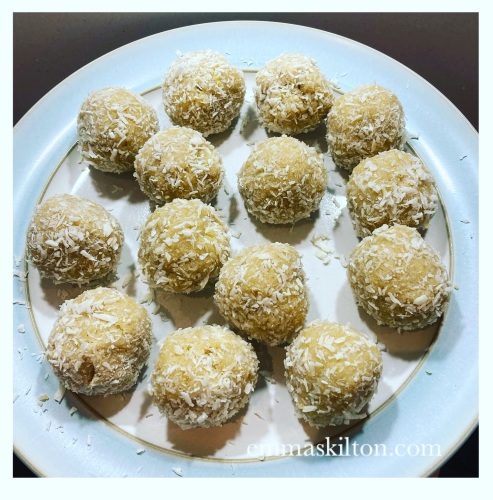 Ingredients:
1 cup ground almonds
1/3 cup coconut oil
1 cup desiccated coconut plus extra for rolling (sugar free)
1/2 cup Vanilla protein powder
2 tablespoons cashew or almond butter
1 lemon juice and zest
Method
Place all ingredients in a food processor and process until mixture comes together.
If too wet add more coconut, if too dry add more nut butter
Shape into balls and roll in extra coconut
Place in the fridge and chill for at least 30 minutes before using
How about a savoury suggestion
Avocado and sugar free smoked salmon, a great treat and gut friendly.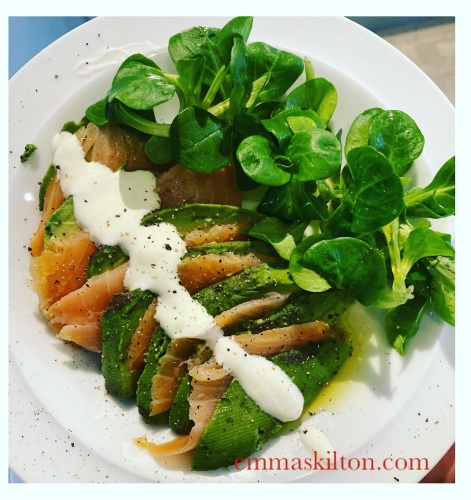 For more help with nutritional advice visit my page here or contact me