Relax and allow yourself the benefit of a holistic beauty facial:
Holistic Beauty Facial- using Neal's Yard Remedies award winning ranges, a bespoke luxury facial tailored to your skin requirements. A deep cleanse, exfoliation and mask to clear your complexion followed by hot towels, then layers of moisture added to your skin to nourish and revive. The ultimate in skin pampering.
Holistic Crystal Facial- a treatment of the purest energies for mind, body and soul. Using flower waters and essential oils along side facial massage with rose quartz and Jade crystal wands, rollers and thumb stones to stimulate cell renewal, heal and re-energise the skin while promoting a feeling of wellbeing.
Treatments take a minimum of 60 minutes up to 90 minutes depending on chosen treatment. Prices start from £40 up to £65. Book Here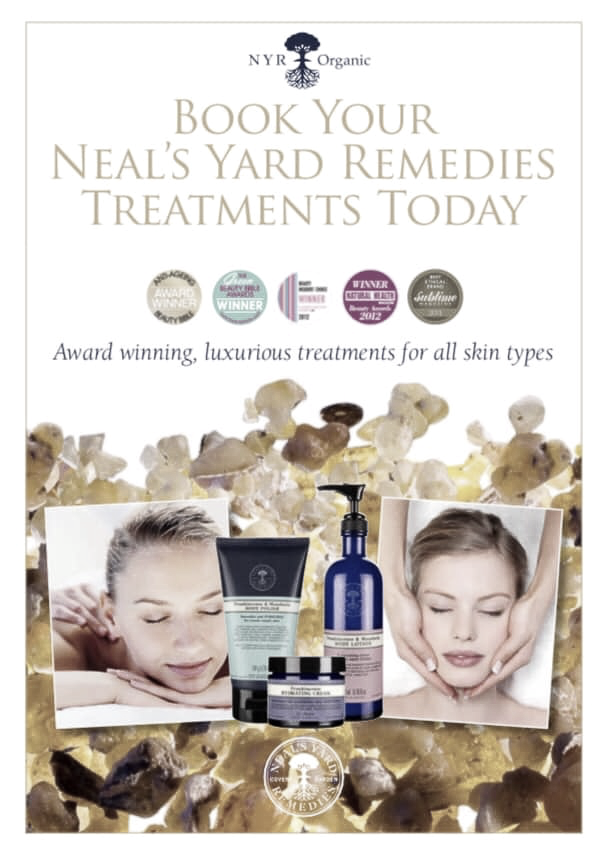 Benefits of a Holistic Facial treatment
The massage
increases blood circulation and lymphatic drainage to skin and muscles
increases cellular activity
improves texture of skin
stimulates removal of toxins and waste products from tissues
relieves tension
The facial treatment
The cleanser will help remove the surface debris and dead skin cells
An exfoliant gives an enhanced, deeper cleanse, improving the appearance and texture of the skin.
Toner helps restore the pH balance and freshens the skin
Mask can help hydrate skin, remove excess oils and help improve the appearance of your pores. They're also an excellent way to help pull out impurities.
Moisturiser provides protection to the skin against outside elements. It replaces, holds and attracts moisture to the skin and evens out the skin texture.
An award winning world leader of natural health and beauty, Their belief in sustainability means they use only the wild, organic, and natural ingredients nature can afford to give. Shop Here